A Truly Reliable SUV
The Chevrolet Tahoe near New Ulm, MN, from Lockwood Motors is safe, powerful, stylish, and reliable all rolled into one impressive SUV.
There's no question that the Chevrolet Tahoe is one of the more popular SUVs today and rightfully so. This popular SUV can be described as reliable, powerful, safe, tough, and impressive. Families and businesses alike use this SUV from Chevrolet for years because of its durability.
Excellent Safety Features
The Chevrolet Tahoe from Lockwood Motors has some excellent safety features you'd be hard-pressed to find in other SUVs in its class. One such feature is the safety-Alert Driver's Seat. The driver's seat will vibrate to alert the driver of a possible collision. This is in addition to using a warning sound.
The friendly and experienced team from Lockwood Motors knows what it takes to find the right SUV for your family or business. Visit our dealership today to go for a test drive in a Chevrolet Tahoe near New Ulm, MN.
Reliability for Families, Businesses, and Everyone in Between
The purchase of a new SUV is a large investment for families and businesses. For this reason alone you will want to make sure that the SUV is reliable. The latest version of the Chevrolet Tahoe rolled off the assembly line in 2015 and has been one of the highest-rated SUVs when it comes to reliability since then.
Comfortable Ride on Any Terrain
No matter where you sit in this SUV you will enjoy a comfortable ride. Road noise is a thing of the past in all Chevrolet vehicles and the Tahoe is no exception. Whether you are navigating pothole-ridden city streets or the rough terrain of the countryside, you will have a comfortable ride throughout New Ulm, MN.
Are you ready to put yourself behind the wheel of a Chevrolet Tahoe? The team at Lockwood Motors can answer all of your questions and take you for a test drive at your convenience. Visit us today to find out why this SUV has become the pick of the Chevrolet lineup.
Style is the Name of the Game
If you are looking for a stylish SUV that pulls out all the stops, look no further than this model from Chevrolet. You won't be disappointed in the sleek exterior design that sets it apart from all other SUVs on the market today. The interior is impressive as well. Your family and friends will be impressed when you pick them up in this SUV.
Test-Drive a Chevrolet Tahoe Today
If you are in the market for a new SUV, the team from Lockwood Motors will gladly help you narrow your search down to the Chevrolet Tahoe. Our showroom is just minutes from New Ulm, MN, making your car-buying experience quick and painless. Visit us today to take this SUV or one of our many Chevrolet models for a test drive.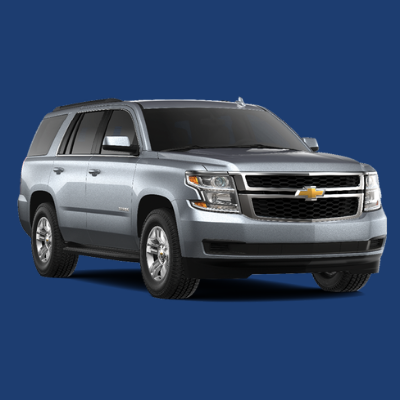 Why Choose Lockwood Motors?
Lockwood Motors knows the importance of having a safe and well-running vehicle for your hard-working family. As a family-run business since 1955, the team at Lockwood Motors takes the time to get to know each and every customer, so we understand your individual needs. Whether you're coming in for routine maintenance on your current vehicle or are looking for a new or pre-owned Cadillac, Chrysler, Dodge, Jeep, Ram, or Chevrolet model, we've got you covered. Come stop in and say "hi!" to us today—you may visit as a customer, but you'll leave as family!