Completely Redesigned and Ready for the Road
There's no better place to pre-order the amazing new 2021 Chevy Silverado 1500 than at Lockwood Motors in Marshall, MN.
With a host of upgrades and redesigns, it's no wonder drivers everywhere are looking for a way to pre-order the 2021 Chevy Silverado 1500. It's not exactly clear when these pickups will hit the road, but production will start right away. A truck this popular won't be on the lot for long, so make sure to pre-order the 2021 Chevy Silverado 1500 today.
When it comes to finding a safe, efficient, and economical vehicle to improve your life, stop by Lockwood Motors. We take the time to get to know you. That means you'll receive personalized service without the hassle. Visit our showroom or check us out online right away.
Customize Your Cab
The Chevy Silverado 1500 comes with more cabin options than ever before. Whether you need more room for additional passengers or need enough space for yourself, the Silverado 1500 has you covered.
Regular Cab: These short cabs can hold two to three people. You can often get a little more towing out of these regular cabs with a lower weight than other cabs.
Double Cab: A double, or extended cab, has a second row for extra passengers.
Crew Cab: This cab comes with four full-size doors and can often seat up to six people. It provides the most room inside the cabin.
Contact our team of Chevy experts to learn more about which cabin will be best for you.
More Engines for Your Job Site
Regardless of which engine you choose, your 2021 Silverado 1500 will bring ultimate power to the table. Most trims come standard with a 4.3-liter V6 engine. The Lightweight Trim (LT) starts at a 2.7-liter Turbo Gas engine, and you can upgrade to a 2.0-Turbo Diesel or 5.3-liter Turbo.
At the high-end of the Silverado 1500 engine options is the 6.2-liter turbo V8. Every trim can either be rear-wheel or four-wheel-drive, depending on your desires.
Schedule a test drive today to get a first-hand encounter that will help you find your best-fit engine.
What's New for 2021?
The last significant redesign for the Silverado 1500 was in 2019. The 2021 version of this beast has some exciting changes while keeping all of the Silverado elements you love most. Here are just a few of the more notable upgrades:
New exterior colors that will look great in your driveway
Newly available wheels on select trims
Carpeted floor liners
Wireless phone projection for Apple CarPlay and Android Auto
Tons of new add-on packages
Upgraded powertrains
Pre Order Your 2021 Chevy Silverado 1500 TODAY!
Since Chet Lockwood took over ownership and operations of a Marshall, MN, car lot in 1955, he's worked hard to build a dealership people could trust. This family-owned business started a tradition that people throughout the area have come to respect. Your needs are always our only priority.
That means you can pre-order the newest Chevy Silverado 1500 with confidence. Please stop by or give us a call to learn more about how you can get behind the wheel of your very own 2021 Silverado 1500 model.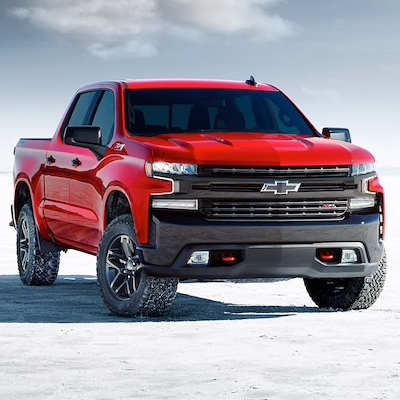 Why Choose Lockwood Motors?
Lockwood Motors knows the importance of having a safe and well-running vehicle for your hard-working family. As a family-run business since 1955, the team at Lockwood Motors takes the time to get to know each and every customer, so we understand your individual needs. Whether you're coming in for routine maintenance on your current vehicle or are looking for a new or pre-owned Cadillac, Chrysler, Dodge, Jeep, Ram, or Chevrolet model, we've got you covered. Come stop in and say "hi!" to us today—you may visit as a customer, but you'll leave as family!